Bristol Airport reopens after plane comes off runway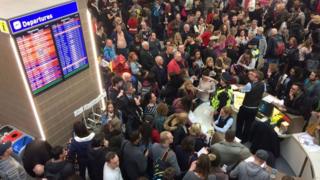 Bristol Airport says it is now "open and fully operational" after a plane carrying 25 people came off the runway.
Flights were suspended after the BMI aircraft from Frankfurt left the runway as it taxied to the terminal on Friday.
No one was hurt, but 70 flights were cancelled or diverted while the recovery effort was completed.
The Embraer 145 aircraft was moved late on Friday and airport officials said they were working with airlines to resume flight schedules.
An airport spokesman said "ongoing knock-on delays to flights may be experienced over the weekend".
"We are working with the airlines to resume the flight schedule as soon as possible," he said.
"We apologise to passengers for the flight disruption experienced. We appreciate it is frustrating to have Christmas travel plans impacted."
Passengers are being advised to contact their airline to get the latest flight information.
At least 45 arriving flights and 28 departures were cancelled or diverted to other airports on Friday.
The Air Accidents Investigation Branch (AAIB) confirmed it was sending a team to the airport.
---
What are my rights?
The Civil Aviation Authority says the delays at Bristol Airport would almost certainly fall into the category of "exceptional circumstances" - ones which are outside the control of the airlines - so passengers would not be able to claim compensation for the delays or cancellations.
But a CAA spokesman said there was a duty on the airlines to provide reasonable "care and assistance" to passengers unable to travel.
This could include phone calls, meals, food and drink, or overnight hotel accommodation with transport to the airport.
---
Bristol Airport said more than 190,000 passengers were due to use the airport between 22 December and 1 January - a 5% increase on the same period last year.