Bristol Zoo giant tortoise notches up 42 years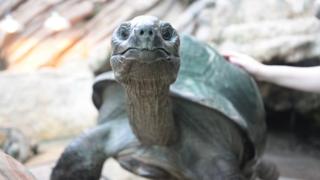 Bristol Zoo's longest-serving resident, giant tortoise Biggie, has been an attraction there for exactly 42 years.
The giant Aldabra tortoise arrived at the zoological gardens on Christmas Eve 1975.
One of four resident giant tortoises, Biggie has been at the 181-year-old zoo longer than any other animal.
Senior keeper Adam Davis, said: "Biggie is a favourite with so many of our visitors. No-one could imagine Bristol Zoo without him."
Aldabra tortoises can weigh up to 250kg (39 stone) and live to more than 100 years old.
Although Biggie's exact age is not known, keepers believe he is more than 60.
"Everyone seems to love the fact that he is so big, but he is also a gentle giant," said Mr Davis.
The species gets its name from the Aldabra atoll off the Seychelles.