Bristol University fire: Crews tackle campus blaze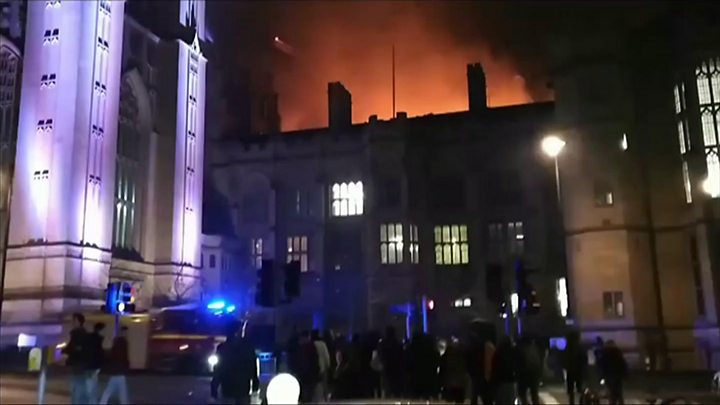 Fire crews are investigating the cause of a large blaze at the University of Bristol.
The university said everyone was accounted for after the fire in the Fry Building, which was being refurbished.
A number of study areas were evacuated, including the Wills Memorial library, and will remain closed on Sunday.
Avon Fire and Rescue Service said the fire was extinguished at about 20:30 GMT and crews remain at the scene damping down.
Several roads around the campus were closed, including Park Row and Woodland Road.
Sacha Dhabalia was in the university's library - near the affected building - when the fire alarms went off.
The second year sociology student said the building was packed with people revising for exams that begin on Monday.
"Trying to get out quickly was pretty difficult considering there must have been hundreds of students all heading in the same direction towards the exit.
"I could smell smoke and hear the fire brigade sirens but had no idea where the fire was, which was pretty terrifying.
"When I got out everyone was coughing because the smoke was so thick. "
Ms Dhabalia added: "As I started walking home - without my notes for the exam on Tuesday - I saw where the fire was coming from.
"Many students are left without their work at a stressful period.
"Hopefully the library will be open tomorrow and we'll be able to get our notes and books back."