Bristol flats hoax bomb threat: James Francis jailed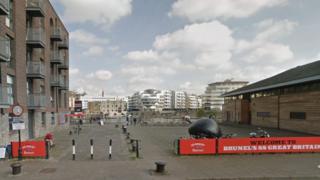 A man who threatened to blow up a block of flats in Bristol after being threatened with eviction has been jailed for two and a half years.
Five blocks of flats were evacuated near the city's SS Great Britain museum ship during the incident on 4 August.
James Francis, 21, previously admitted arson, threatening to destroy property and providing false information about a bomb hoax.
He was jailed for two years for the bomb hoax and six months for arson.
Bristol Crown Court heard that Francis, of Gas Ferry Road, had received an eviction notice after setting fire to his clothes by putting them on a hob in June of last year.
On 4 August, Francis told a visiting key worker that if he could not live there, no-one could.
'Rudimentary explosive device'
The court heard the key worker contacted police when Francis claimed he had stolen gas canisters to blow up the block and that he had a gun made from an umbrella.
When police arrived, Francis threatened to "nuke the place" and claimed he had had booby-trapped the flat with PCP gas, chlorine grenades and propane canisters.
Bomb disposal experts discovered what Judge Euan Ambrose described as a "rudimentary explosive device" made of foil-wrapped deodorant canisters covered in flour.
At the time of the incident, Bristol City Council said Kingdom House, Steamship House, Great Western House, Great Eastern House and Horsley House were evacuated and a rest centre was set up at the nearby Spike Island building in Cumberland Road.
Summing up, the judge said Francis's claims were "very seriously exaggerated but were taken very seriously, as they had to be, which caused enormous disruption".
A psychiatric report concluded Francis had been in a prescription drug-induced psychosis having taken a large amount of medicines, bought illegally.