Hundreds of bins go missing from outside Bristol homes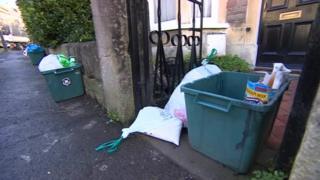 A spike in the number of bins going missing from outside Bristol homes has been reported by a waste firm.
People living in the south of the city have taken to social media to complain about their recycling boxes and wheelie bins "regularly" disappearing.
Bristol Waste said it has had more than 650 requests for new bins in the last four weeks from Bedminster and Bedminster Down - up by 70%.
The firm said it was trying to keep up with "increased demand" for new bins.
A number of residents have complained about their recycling boxes "regularly" going missing on the BS3 Connect group on Facebook.
Julie Smith said they had "lost two in a month" and Sarah Woodberry added: "We have lost two in the last six weeks too".
While Dave Smith said: "Looks like the BS3 Bin box bandits are back!" and Miguel Riley said "someone is constructing the greatest bin fort ever known to man".
A 240-litre wheelie bin can cost up to £20 and is currently paid for by Bristol City Council.
'Walking bins'
Tracey Morgan, from Bristol Waste, said: "We thought it was down to the weather but we're investigating to find out why there's been such an increase.
"We don't mind providing people with bins because we want them to recycle but obviously we won't want to waste money.
"It's an expensive process if they're just kind of walking."
Bristol Waste asked residents to take bins off the streets as soon as they can after collection and offered to provide stickers to personalise boxes and wheelie bins.