Ilminster Avenue Specialist Nursery future 'threatened'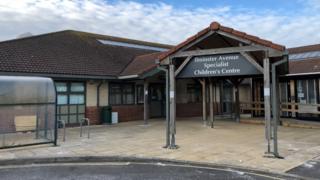 The future of a specialist nursery is "very threatened", governors and staff have warned in a letter to the council.
Ilminster Avenue Nursery School, Bristol, teaches more than 200 children, including several with special educational needs.
Calling for action, the letter described a "crisis" and a "completely obscure financial position".
The city council said it was "doing everything it can to make sure the school can continue to operate".
Teachers said it "appeared the school will be left entirely without leadership", after the head gave notice in January 2017 and a "temporary leadership package" was installed after the acting head "went off sick" in July. The recruitment of a new head has also been "halted".
The governors said it was "particularly distressing" as Ofsted inspectors last month awarded them "a (provisional) Good status - despite the uncertainty and difficulty of the situation".
A council spokesman said: "This is a national problem which is affecting councils across the country.
"Currently a central cross-party parliamentary group is meeting to discuss the funding which is offered to councils to support early-years learning as the current model does not recognise the added pressures on nursery schools."
Kirsty Atkins, whose son Lewis is a pupil at the nursery, said: "I'm still a bit unsure what's going to happen - there's been talk about closing this place.
"I think a lot of parents here are worried there's not going to be anywhere for the children to go. We just need some clarity."