Avebury stone circle closed due to 'badly waterlogged' site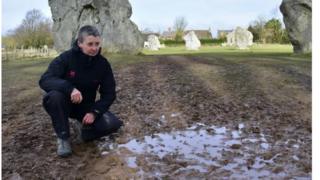 Access to a 5,000-year-old stone circle has been limited as the "badly waterlogged" ground could damage the archaeology.
It is the first time in 17 years the National Trust has been forced to close most of Avebury in Wiltshire.
The trust said the mild weather had resulted in deep muddy patches which could be "dangerous for visitors".
The site is expected to reopen in a few weeks when the ground has recovered.
Countryside manager Hilary Makins, said: "Parts of the henge have already been closed for a number of weeks in the hope that the worst affected areas would recover.
"They have started to improve but not enough to withstand reopening."
Dr Nick Snashall, archaeologist for the Stonehenge and Avebury World Heritage Site, said: "We know through geophysical surveys and excavation that there is more archaeology under our feet.
"However, the topsoil here is very thin and the archaeology can be quite near to the ground surface. So it's important that we take steps now to ensure that people walking through the deepening mud don't damage the site."
The only other time the National Trust has had to close the site was during the foot and mouth outbreak in 2001.
Avebury village and National Trust facilities remain open.