Isambard Kingdom Brunel: The engineering giant with 'short man syndrome'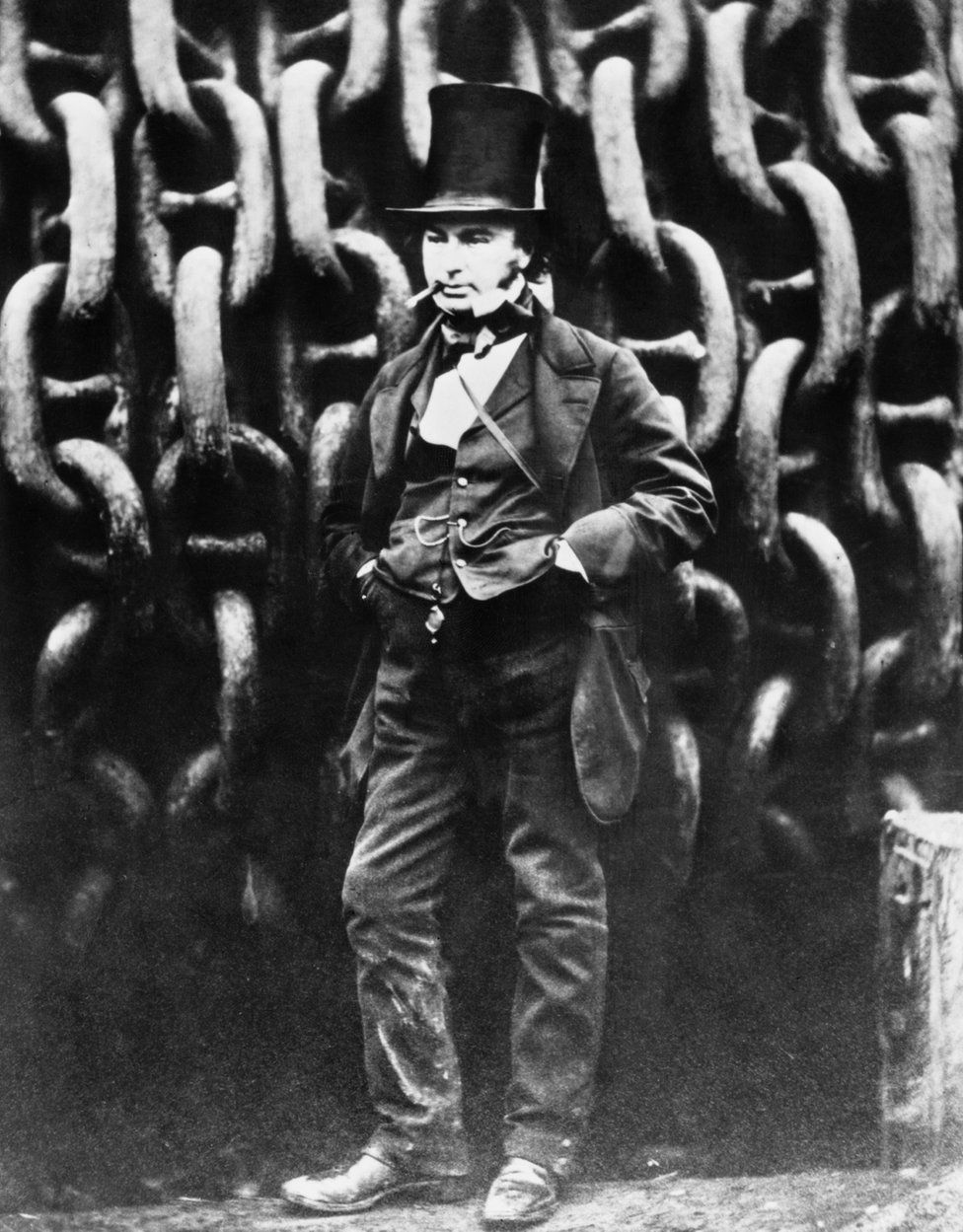 Allowing nothing to stand in his way, Isambard Kingdom Brunel built across gorges, tunnelled under rivers and through hills to construct railway lines, stations, bridges, viaducts and docks.
His three ships, the Great Western, Great Britain and Great Eastern, were the biggest, fastest and most advanced vessels ever seen.
Yet the man who built the Clifton Suspension Bridge and the Great Western Railway was plagued by self-doubt, particularly when it came to his diminutive stature.
Rhian Tritton, the director of a new museum that celebrates the life of the renowned engineer, has selected some of the most illuminating of the thousands of items - which include previously unseen exhibits - on display at the Being Brunel attraction.
Brunel's school report of 1821 shows he was a precociously talented child, of whom the teachers at the Institute of Mr Massin in Paris had great expectations.
Behind Brunel's early promise was the steely will of his French-born engineer father Sir Marc Brunel, who was determined his only son would follow in his footsteps.
"I don't think it is unreasonable to say that without Sir Marc Brunel there wouldn't be the Isambard Kingdom Brunel we know today," said Ms Tritton.
Sir Marc taught his son to draw as a very young child and sent him to school in France when he was 14 years old to receive the technical education that was unavailable in Britain.
His teacher reported that Brunel's behaviour was "beyond reproach" and he excelled in German, maths and drawing.
"That proved to be one of the great advantages he had over [Thomas] Telford and [George] Stephenson and other engineers of his generation," said Ms Tritton.
"As a boy Brunel could already do very complex calculations and technical drawings."
'I catch myself trying to look big'
In 1822, at the age of 16, Brunel returned to England to work as an engineer with his father. He desperately sought affirmation through his work, craving public approval rather than fame.
In one diary entry, he wrote: "As I pass some unknown person who perhaps does not even look at me I catch myself trying to look big on my little pony."
"He berates himself for caring so much about what people think," said Ms Tritton, who describes Brunel as having "short man syndrome".
As his fame and fortune grew, Brunel learnt how to mask his insecurities.
"He's poised and confident in the famous photo of him in front of chains of the Great Eastern, but we know from his diaries that he was absolutely racked by self-doubt," Ms Tritton said.
"However, he also understood that he needed to project a certain image in order to be successful and we can all understand that."
Brunel used to set his watch by this very clock, which has never been displayed in public before.
"Brunel's impact on time is very, very important," said Ms Tritton.
"Before the Great Western Railway link between Bristol and London, there was little reason why a clock in the South West should tell the same time as the one in London.
"Bristol, therefore, had its own time zone - around 10 minutes slower.
"It was the construction of the railway and the need for standardised timetabling which led to unified GMT time across the country."
While Brunel was a revolutionary in many ways, he still had to rely on traditional tools.
These drawing curves, covered in ink spills and chalk marks, were used by Brunel to design some of his most famous projects, from the Clifton Suspension Bridge to the Great Western Railway line and London Paddington station.
"They were absolutely crucial to Brunel's ability to do his job... everything had to be done manually and it was critical for Brunel to have precise tools," said Ms Tritton.
Drawing curves were still being used in design offices across the world more than 100 years after Brunel's death, although in the second half of the 20th Century computer-aided design (CAD) revolutionised architectural and engineering practices.
Brunel wouldn't be Brunel without his famous cigar.
A workaholic, regularly putting in 20-hour days, Brunel puffed his way through more than 40 cigars a day, which he carried with him in this black leather case.
Stamped "I.K.B. Athenaeum Club Pall Mall", the case - which when opened still contained a partly-smoked cigar - says much more about him than his passion for tobacco.
A consummate networker, Brunel spent a lot of time at the Athenaeum Club, close to his London offices.
There he courted the great and the good of London society to back his ambitious projects, which needed vast amounts of capital.
The cigars he so enjoyed were a part of his own carefully crafted image, according to Ms Tritton.
"He is instantly recognisable - almost a brand with the cigar and top hat.
"In a line-up of other 19th Century engineers, who could recognise Stephenson or Telford? Everybody would know Brunel."
As well as demonstrating the process he went through as he planned his great works, Brunel's sketchbooks also offer a snapshot of his playful side.
"What is really striking about these sketchbooks is the number of ways that Brunel is downloading his vision on that page," said Ms Tritton.
"There are little doodles throughout his work; that little moment when you stop what you're doing and let your mind wander - it's very human."
Expressing himself on paper was something Brunel learnt from his father and they corresponded regularly, writing loving letters containing lots of sketches.
"They had a close and affectionate relationship and his father was one of the really great sources of strength to Brunel," said Ms Tritton.
Sir Marc supported him through the ups and downs of his engineering career and, when Isambard lost a competition to build the Clifton Suspension Bridge in 1829, the elder Brunel sent his son a letter with a fanciful design for the bridge - ambitiously addressing it to "Sir Isambard Kingdom Brunel". (Although the son was never knighted, the father became Sir Marc in 1841.)
His belief in his son paid off: Brunel went on to resubmit his designs for the bridge, winning the contract in 1831.
By the 1850s, the stress of managing his mammoth projects was beginning to show.
Brunel was put under pressure to hold a successful public launch for the Great Eastern. At the time it was the biggest ship ever built and his financial backers were panicking. Against Brunel's will, and in an early bid to recoup some of the investors' cash, 4,000 tickets were sold to people wishing to attend the launch of the vessel.
As a perfectionist, Brunel could not face any possibility of his carefully crafted public image slipping, especially at such a crucial moment.
He preferred a "silent" launch for his projects with no spectators at all, and wrote in his diary that the sale of tickets for the unveiling of the Great Eastern, in 1857, "was cruel and it was wrong".
By now Brunel's health was in decline and he did not live to see the Great Eastern return from her maiden voyage.
He died of a stroke on 15 September 1859 at the age of 53.
His friend and colleague Daniel Gooch wrote: "I lost my oldest and best friend... By his death the greatest of England's engineers was lost, the man with the greatest originality of thought and power of execution, bold in his plans but right."
Born on 9 April 1806 in Portsmouth
Married Mary Horsley in 1836. They had three children: Isambard, Henry and Florence
Built nearly 1,200 miles of railway, including in Ireland, Italy and Bengal
His Great Western sailed from Bristol to New York in 15 days, in April 1838. In the same year work began on Bristol Temple Meads station
His last work was the Three Bridges, an ingenious arrangement that allowed the routes of the Grand Junction Canal, Great Western & Brentford Railway and Windmill Lane to cross each other in west London
Buried in Kensal Green Cemetery, London, on 20 September 1859. Thousands of railway workers and members of the public lined the funeral route
Left a fortune of £90,000 in his will - the equivalent of £11m today
Placed second in a 2002 BBC poll that asked the public to select the 100 Greatest Britons
Being Brunel opens on Friday 23 March.
Related Internet Links
The BBC is not responsible for the content of external sites.