Bristol rail embankment: 'No action' after trees felled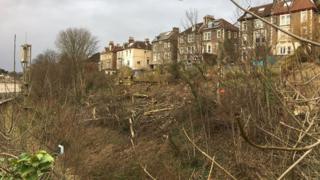 Network Rail says it will not take any action against those responsible for cutting down trees on a railway embankment in Bristol without permission.
Trees were felled opposite Montpelier railway station in January.
Local resident Cecilia Farring said she had permission to carry out the work, a claim Network Rail denied.
A spokesperson for the firm said: "The embankment in Montpelier will be tidied and no further action will be taken."
Ms Farring said she had been campaigning for 20 years for the trees to be removed.
She said the firm told her it would send a list of approved tree surgeons but never did, "so we organised for registered tree surgeons to do it".
Network Rail insisted it had not given permission for the work and would be investigating.
"Safety is our priority and nobody is permitted to access the railway unless they have the proper permission," it said.