North Avon Magistrates' Court building to be demolished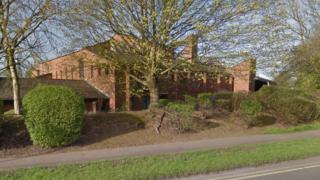 Plans to demolish a court building have been given the go-ahead despite claims it could be put to good use.
North Avon Magistrates' Court is being levelled, but plans build up to 50 homes on the site in Yate, South Gloucestershire, are yet to be decided.
But Yate Town Council said the demolition would prematurely remove a community asset.
Homes England has submitted outline plans for up to 50 homes on the site, 18 of which would be "affordable".
The development would have parking spaces for 75 cars and 58 bikes.
South Gloucestershire Council will decide the fate of the application.
But those opposed say the "lovely" building could have been used to expand the minor injuries unit or as a home for the elderly, and voiced fears the levelled site would attract graffiti or fly-tipping.
The building on Kennedy Way, which has five courtrooms, 12 custody cells and eight waiting rooms, closed in 2016 as part of cost-saving measures by HM Courts and Tribunals Service.