PC denies 'bullying officers to drop daughter's driving case'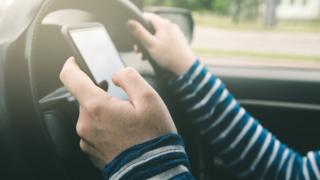 A police officer accused of pressing colleagues not to prosecute his daughter said he was an "embarrassed dad" wanting to know what had happened.
The Avon and Somerset Police officer allegedly bullied volunteer officers to drop the case after his daughter was caught driving and using her phone.
The officer, who cannot be named, told a misconduct hearing he wanted to know if she was getting a ticket because otherwise he would be disciplining her.
He denies misconduct.
The officer's daughter was pulled over by special constables James Fowler and Steve Jones at about 01:00 GMT on 28 October.
During his evidence, the officer said she had called him while he was on duty in tears "agitated and upset".
He said he "couldn't get any sense out of her" and had contacted the special constables as an "embarrassed dad" wanting to find out what had happened and the "genuine facts".
The officer said he had spoken to the special constables a number of times to find out if she was getting a ticket because he wanted to know the outcome before then end of his shift.
'Gutted and embarrassed'
He said he was "gobsmacked" she had a mobile phone in her hand as he had bought her a hands-free headset and was "gutted and embarrassed" she had put him in that position.
On Wednesday, Special Constable Jones told the hearing, the officer had kept "pressing and pressing" him saying it was "just a silly mistake" and Special Constable Fowler said the officer had used his position "to put pressure" on him.
But the officer said it had "upset" him to think he had made someone feel that way while they were on duty.
"I just wanted to find out what had gone on that evening," he said.
The hearing is due to end on Friday.
Driving while using a mobile phone can lead to a six-point penalty and a £200 fine, and newly qualified drivers can lose their licence.