Entrepreneur to save 200-year-old fire-damaged Bristol church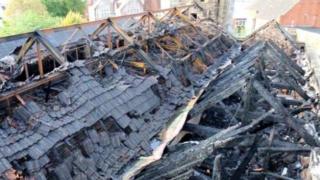 A 200-year-old church destroyed by fire will re-open after a local entrepreneur agreed to take on its restoration.
St Michael on the Mount Without in Bristol was gutted by fire in 2016.
It had already closed as a place of worship in 1999 following dwindling congregation numbers.
Ian Johnson, an events and online publishing businessman, is planning to bring it back to life as "a multi-functional space for all types of events and community use".
Mr Johnson said he was looking forward to the challenge.
"I'm personally glad to give one of Bristol's most historical buildings a future," he said.
The ruined church, which sits on high ground overlooking the city, has become well known with locals.
It has a 15th Century tower and was previously restored after being damaged by bombing in World War Two.
The restoration will begin with a new roof to replace the charred remains of the existing structure.
A museum dedicated to the local area will be created in the crypt of the Grade II listed building.
"We aim to make this into something the area and local residents can be proud of in the next two years," Mr Johnson said.