Bristol Parkway's new platform officially opens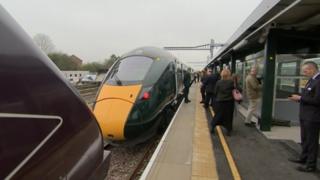 A new Bristol train platform has opened to tackle a "historic bottleneck" in the region's rail network.
Bristol Parkway is a key station which links the West country to Wales, south-west England and London.
Network Rail says the new platform will mean faster journeys for commuters and freight trains and allow train operators to offer more services.
The fourth platform was opened on Friday by the Secretary of State for Transport, Chris Grayling MP.
"These improvements will boost reliability, increase the number of trains serving Bristol and along the route, and also allow new intercity trains to stop at the station too," said Mr Grayling.
Great Western Railway will be releasing a new timetable in early 2019 for its intercity services from south Wales via Bristol Parkway and London.
The work is part of a £400m project by Network Rail to increase capacity in the region's rail network.
During Easter, a signalling upgrade was completed in the Bristol area.
In Filton the train track has been doubled, which means more trains can run in and out of the station.
Route managing director for Network Rail's western route, Mark Langham, said: "Bristol Parkway is a historic railway bottleneck, we see a lot of congestion here.
"This opening of the new platform has enabled us to unclog this bottleneck along with recent re-signalling work we've done in the Bristol Temple Meads area."
In the coming months, the line between Bristol Parkway and Bristol Temple Meads will be doubled, which Network Rail said would mean more trains running.