Bristol Metrobus route delayed because 'buses don't fit'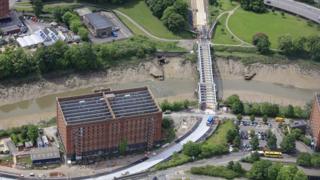 A key part of Bristol's £230m Metrobus network faces more delays because buses do not fit along sections of the route.
Tests along the m2 route found "adjustments at various points" need to be made to specially designed guide ways.
The route had been due to open in 2017, but delays were blamed on the ticketing system.
Metrobus said work would be done "as quickly as possible" but it "has to be right".
The Bristol Post reported that the network's bosses had also denied rumours that a bend on a flyover, forming part of the route, is too sharp for buses to navigate safely.
The affected route runs between Long Ashton park and ride and the city centre, and had been earmarked as the first of the three Metrobus routes to open.
However, during tests earlier this year Metrobus admitted there were problems with the guide rails at points along the 2.5km route.
"There is a process: design, build, test and make adjustments as required," a spokeswoman said.
"When those adjustments are made a second round of testing takes place.
"We are doing this as quickly as possible as we all want the m2 in service as soon as possible. However, it has to be right."
Earlier this month, Metrobus admitted there were "snags" regarding the m2 route after it unveiled a deal allowing social enterprise Bristol Community Transport to operate the longest route of the scheme.
Meanwhile, Bristol South MP Karin Smyth demanded to know why a section of the network in her constituency had "disappeared" from official maps.
She said the "crucial" Ashton to Hengrove link had "have fallen by the wayside" and abandoning the route was "entirely unacceptable and a betrayal of promises made to local communities".
Metrobus said the route had only ever been an "aspiration" and was not currently commercially viable.
Former Green Party Bristol mayoral candidate Tony Dyer said the new issues surrounding the m2 route were "not the key issue any more".
He added: "It is now about whether Metrobus can be trusted to be open and honest about the project."