Mark van Dongen acid attack: Berlinah Wallace 'has to pay for this'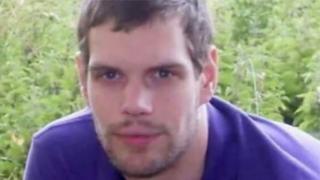 A man who had acid thrown over him told police and paramedics his ex "must pay" for the attack, a court has heard.
Berlinah Wallace, 48, denies murder and applying a corrosive fluid to Mark van Dongen in Bristol in 2015.
Bristol Crown Court heard the 29-year-old ended his life in a Belgian euthanasia clinic 15 months after the incident.
The court heard from paramedic Dean Carter who said Mr van Dongen told him: "She [Ms Wallace] has to pay for this".
He added that the Dutch engineer had "significant chemical burns" and was "frothing at the mouth".
Mr van Dongen was left paralysed from the neck down and lost his left leg, ear and eye following the attack in September 2015.
Jurors at Bristol Crown Court also heard from neighbour Thomas Sweet, who said Mr van Dongen was in the street shouting, in a lot of pain, wearing just his boxers.
"He looked like he had paint chucked on him," Mr Sweet said.
He said Mr van Dongen was asking to have a shower, "but when we said we would take him back to the flat said 'she lives there'.
"We reassured him we were taking him to a different flat.
"It looked like his skin was bleaching and his eyes were bloodshot. I told him the police were on their way. He said 'they need to be here, she needs to pay'."
The court also heard from PC Tom Green who went to hospital in the ambulance.
"I asked him who'd done it. He'd replied 'Berlinah' pointing to a tattoo on his stomach - 'Berlinah Wallace - she needs to go to prison for this'", he said.
"He then asked me to check his girlfriend [Violet Farquharson] was OK as he believed Berlinah was going there."
The trial continues.