Bristol PC cleared over Judah Adunbi Taser assault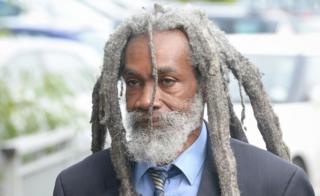 A police officer accused of attacking a former race relations adviser with a Taser has been found not guilty of assault.
PC Claire Boddie deployed her Taser against Judah Adunbi, 64, in Colston Road, Bristol, in January last year.
Mr Adunbi is a former member of the Independent Advisory Group to Avon and Somerset Police.
PC Boddie, 47, was found not guilty of assault by beating following a one-day trial at Salisbury Magistrates' Court.
District Judge Tan Ikram said the prosecution had "failed to persuade" him that PC Claire Boddie "didn't act in self-defence".
The trial heard Mr Adunbi had been walking his dog when he was approached by PC Boddie and her colleague PC Darren Weston, who wrongly believed he was a wanted criminal known for violence and carrying weapons.
When he was asked to confirm his identity he refused, as was his legal right, and repeatedly denied being the person the officers thought he was.
In video footage shown to the court, Mr Adunbi became angry and is seen telling the officers "you are victimising me" and accusing them of being racist.
Speaking to the court, PC Boddie - an officer of 23 years - said Mr Adunbi's reaction to being approached was "unusual". She said he "looked similar" to a wanted man known for violence and Mr Adunbi was being "verbally aggressive" and had adopted a "fighting stance".
'Genuine concerns'
PC Boddie will now face disciplinary proceedings as the Independent Office for Police Conduct (IOPC) has announced it has found PC Boddie has a case to answer for gross misconduct.
An IOPC spokesman said disciplinary proceedings were under consideration and added both officers involved had "no case to answer for misconduct in respect of allegations that they discriminated against Mr Adunbi on the basis of his race".
Assistant Chief Constable Steve Cullen said the force wanted to "acknowledge the deep and genuine concerns this incident has raised in some of our communities".
"We want to be open and transparent about our use of powers, including use of Taser, so communities trust us to use them appropriately and lawfully," he said.