Acid attack: Mark van Dongen's father a 'broken man'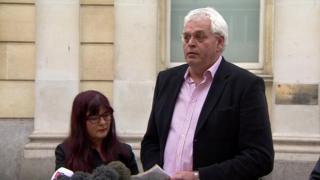 The father of Mark van Dongen, who took his own life a year after his girlfriend poured acid over him, said he is now a "broken man".
Berlinah Wallace, 48, hurled the corrosive fluid at the Dutch engineer in Bristol in 2015 as he slept.
In a victim impact statement, Kees van Dongen said he wanted to make sure she got "the sentence she deserves".
Wallace was found guilty of throwing a corrosive substance with intent and will be sentenced on Wednesday.
She was cleared of murder and manslaughter.
Fifteen months after the attack, Mark van Dongen, 29, ended his life by euthanasia in a Belgian hospital. He was paralysed from the neck down and had lost a leg, ear and eye.
Kees van Dongen read the statement read to the court on Tuesday as part of submissions to Mrs Justice Nicola Davies ahead of sentencing Wallace.
He told how his son had begged him to let him take his own life.
"He said 'dad, I'm tired of fighting, I've suffered so much pain and I can't take any more. Please let me go'."
Speaking about how the experience had affected him, he added: "I feel like a broken man, completely drained, and the old Kees no longer exists. Mark and I lost our battle.
"In the past, nothing would faze me, but now I have lead in my shoes."
He said he had always treated Wallace as his own daughter but found it "impossible to believe Berlinah's descriptions of Mark".
"My son Mark was gentle, sensitive, accommodating, too good for this world," he added.