Slavery abolitionist Frederick Douglass celebrated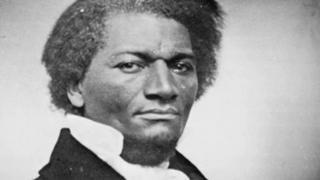 The life of an African-American former slave who toured Britain to campaign for abolition is being celebrated across Bristol.
Frederick Douglass was born 200 years ago and managed to escape from slavery at the age of 20.
Edson Burton and Bristol Old Vic have adapted speeches which will be staged at seven locations in the city linked to slavery.
Dr Burton said Douglass "offers a new perspective on Bristol's past."
Frederick Douglas became one of the most prominent abolitionists of his time after escaping in 1838, by disguising himself as a sailor and moving from Baltimore to New York.
One of the things he would say in his speeches referred to this escape.
He said: "I prayed for twenty years but received no answer until I prayed with my legs".
Douglass then travelled abroad to avoid being captured and re-enslaved, and for almost two years toured Britain.
When abolitionists offered to purchase his freedom, Douglass accepted and he returned to America legally free.
"Frederick Douglass: An Abolitionist Returns to Bristol" has been devised by historian and writer Dr Burton and Bristol Old Vic artistic director Tom Morris to commemorate the bicentenary of Douglass's birth.
Mr Morris said: "Key figures from the worlds of film, theatre, politics and religion will be performing pieces inspired by the extensive speeches and writings he produced over a life's work in search of equality."
Dr Burton said: "He is a historical figure yet his life and activism are strikingly modern.
"Frederick Douglass was a captivating orator. The cast of speakers drawn from stage, screen, and religion - every one enthralling in their own right - will do justice to his words.
"This is also an opportunity for a diverse group of Bristolians and visitors to the city to talk to each other about the many forms of inequality that continue to exist in our society."
Actor Kwame Kwei-Armah, one of the performers, said he "wanted to be part of this one".
"Theatre isn't simply about staging plays within its four walls. It's about its engagement with its community, with its city.
"Having lived in Bristol for five years, I know how vital catalysing discussions around themes the city cares about is." he said.