Fund for acid victim's father tops £34,000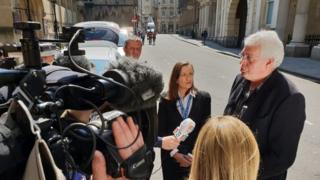 A fund set up to help the father of a man who ended his own life after he had acid thrown over him has raised more than £34,000.
Mark van Dongen died in a Belgian hospital in January 2017, 15 months after he was attacked by his former partner in Bristol.
Berlinah Wallace was jailed for life at Bristol Crown Court on Wednesday.
Bart van Dongen, Mark's brother, began crowd funding for his father to help him "get his life back on track".
The fund was set up to help Kees van Dongen because he lost out "personally" and "financially" after the attack, it says on the fundraising website.
Bart van Dongen said his father, who lives on the Dutch-Belgian border, "gave up everything" and spent months travelling to and from Bristol to care for Mark while he was in hospital".
"He spent most of his nights sleeping in his car at the car park of the hospital," he wrote on the page.
Kees van Dongen also spent time away from home in the UK throughout the duration of the four week trial and other legal proceedings.
At the end of the trial, he said he wanted to "thank the British people for their empathy and for their great financial assistance".
In a victim impact statement read out in court, he said he felt "like a broken man, completely drained, and the old Kees no longer exists".
"Mark and I lost our battle. Despite all the consequences for my health and financial status, I don't regret it for a minute and I would do it all again.
"I hope that I will get over it one day," he added.