Bristol planner 'at war' with architects
By Roger Harrabin
BBC environment analyst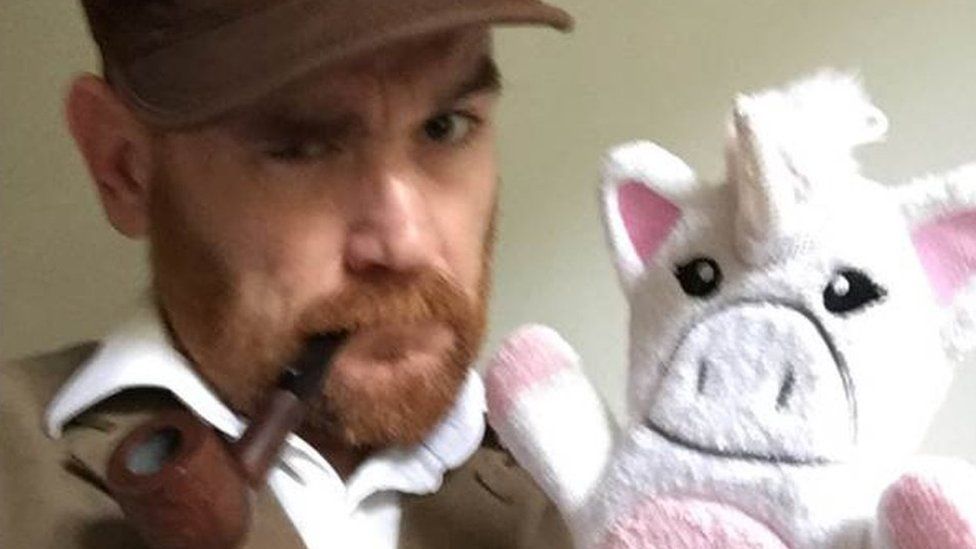 A conservation officer and self-styled "guardian of civic virtue" is deterring developers in Bristol with his overzealous approach, it is claimed.
Council planner David Martyn is accused of disrupting attempts to renovate the city's historic buildings.
Architects claim his "arbitrary" and "unreasonable" decisions had held up projects for months.
The council said it did not recognise the complaints and would protect any officer from personal attack.
Senior architects have complained about posts on Mr Martyn's now-deleted Twitter account, which they claim personalised the issue.
Under the username Archidave, Mr Martyn's profile showed him with a stuffed Lion on his head, and the description "Conservation Sheriff of the wild west".
He further describes himself as "a guardian of civic virtue - keeping everything exactly the same but better".
In one post, as part of a hashtag game, he described his job as "destroying dreams and standing in the way of progress by saying old stuff is nice".
Another picture showed him brandishing a pink cuddly glove puppet, captioned: "Mr Grunwald considers your listed building application invalid."
The posts angered architects, who told BBC News Mr Martyn had given them "the run-around".
One, Robert O'Leary, said: "He described one un-listed building as being of extreme national importance.
"But that's ridiculous - how can it be of extreme national importance if it's not listed?
"Matters of the building environment and heritage are hugely nuanced, but he has the attitude that there's a fundamental truth.
"This is completely unacceptable - we can't work with it."
He said he was advising developers to avoid buying any of Bristol's many listed buildings because of the hassle they would face in re-purposing them.
"This will not benefit the city at all," he said. "The best way to preserve old buildings is to find new uses for them."
George Ferguson, past president of The Royal Institute of British Architects (RIBA) complained about Archidave last year.
"His decisions are just bonkers", Mr Ferguson said.
"He's encouraging high buildings but thwarting people from making tiny improvements to old buildings.
"After I complained he cleaned up his Twitter feed - but then it started again."
A degree of tension is normal between developers wanting to profit from converting old buildings and conservation planners wanting to defend heritage.
But the Bristol conflict appears to have reached new heights. The local branch of RIBA has stepped in to instigate peace talks between the council and developers.
A spokesman said they were instigating seminars to "improve mutual understanding".
The BBC attempted to contact Mr Martyn for comment, but was prevented from speaking to him by Bristol City Council.
A spokesperson said all listed building applications were "assessed on their merits and given full and due consideration".
Archidave's comments "do not reflect the council's views" and the authority had relayed this to him, they said.
"If an individual or organisation wishes to complain about a council employee then that will be dealt with through the appropriate channels."
The spokesperson also confirmed that the glove puppet Mr Grunwald is not an employee, and is therefore unqualified to offer a formal opinion on a listed building application.
Related Internet Links
The BBC is not responsible for the content of external sites.