Severn crossings toll abolition 'could cause gridlock'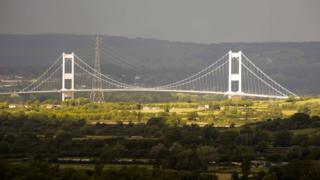 Scrapping the Severn Bridge tolls will cause "gridlock" in the north of Bristol, a business group has warned.
SusCom claims the move, which is planned for the end of 2018, will stimulate the south Wales economy "at the expense of the West of England".
It fears the the move will lead to more people driving to work from places like Chepstow as it will be cheaper than using public transport.
The government has said abolishing the tolls would drive economic growth.
Last year it announced the tolls would be abolished, and on 8 January the VAT was removed as the two crossings returned to public ownership.
Cars heading for Wales are now charged £5.60 instead of £6.70, with vans paying £11.20, down from £13.40, and coaches went from paying £20 to £16.70.
At the time of the announcement the Welsh government said it would provide a £100m boost to the Welsh economy.
SusCom director Ann O'Driscoll said the UK government has estimated scrapping the tolls could increase crossings by 17%, on top of a natural increase in traffic of 28%, by 2028.
She called on councillors to find some way to curb traffic problems and said: "Act now before all the hard work to grow our economy is swallowed up in gridlock."
Her group, which campaigns to reduce congestion, also argues toll revenue could help maintain the bridge with any surplus used for sustainable transport.
A Highways England spokesman said traffic growth on the routes around the River Severn and Bristol is expected to be higher if tolls are removed.
About 25 million journeys are made across the two bridges annually. Those using it daily could save about £1,400 a year.