Bristol City Council finds money 'to keep every library open'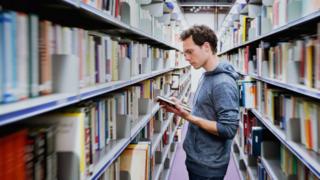 Every library in Bristol has been saved from the threat of closure after a major council U-turn.
The future of 17 out of 27 libraries had been uncertain due to £1.4m-worth of proposed budget cuts.
However, Bristol City Council said it had found enough money "to keep every single library" open and would present its plan in a report next week.
The mayor said he would be working with the community and councillors "to transform and modernise" the service.
Marvin Rees blamed the previous administration for the planned cuts, saying the £1.4m shortfall had been overseen by the former mayor, independent George Ferguson.
He also criticised the government for reducing council funding.
"Next week a cabinet report will be published setting out plans for how my administration can invest to keep every single library in Bristol open," he added.
---
Analysis by Pete Simson, BBC Radio Bristol political reporter
Much has happened since February last year, when Bristol City Council announced an intention to cut £1.4m from its library service.
Last summer a consultation exercise proposed closing almost two thirds of Bristol's libraries as a result, to much dismay from well-organised and vocal campaigners.
A final decision has been on hold for several months following an intervention from opposition councillors and money from the government which allowed the council to look in more detail at other options to maintain the service - options other authorities have used for some time.
---