Bristol Zoo male gorilla revealed to be a female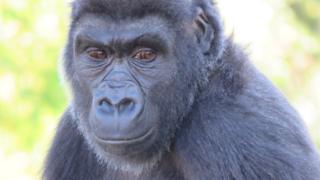 Zookeepers had a shock when they realised a six-year-old male gorilla was actually a female.
Kukena was born at Bristol Zoo on 27 September 2011 to mum Salome and the troop's silverback Jock.
But recently those caring for the western lowland gorilla noticed surprising changes to her sexual organs and behaviour.
Senior curator of animals at the zoo, John Partridge, said gorillas are known for being difficult to sex.
"We have a strict hands-off policy with our animals," he added.
"As gorillas can be difficult to sex, Kukena had been thought to be a male.
"She is a healthy youngster and there have been no reasons to perform more invasive health checks on her during her lifetime in the zoo."
The zoo said Kukena, nicknamed Kuki, recently had her first oestrus and her genitalia became more pronounced which alerted them to her true gender.
The surprising discovery is positive news for the future of the species, which is critically endangered, as there are currently fewer female gorillas than males in the world's zoos.
It means Kukena's future looks dramatically different as she is now likely to be moved to another zoo to continue the breeding programme.
You may also like:
The future of the gorilla is due to be discussed with the gorilla co-ordinator at the European Endangered Species Programme.
Mr Partridge added: "This discovery will not change the way we manage our troop of seven gorillas at Bristol Zoo Gardens."
Kukena is the aunt of Afia, who was left fighting for her life after being born by a rare emergency caesarean in 2016.