Banksy offers to 'support' Bristol libraries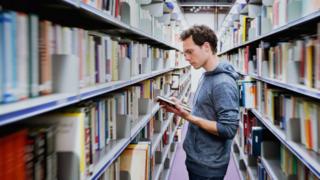 One of the world's most famous street artists has offered to help Bristol's library service.
It is believed Banksy contacted Bristol City Council after discovering some of the city's libraries could be under threat.
Mayor Marvin Rees revealed the surprise move at a cabinet meeting, saying Banksy had "come forward and talked about supporting us".
Last month, every library in the city was saved after a major council U-turn.
Mr Rees was responding to a public question from Lloyd Roberts who asked whether it was true that a "philanthropist" had come forward to help libraries in Bristol, the Local Democracy Reporting Service said.
The mayor said the artist "wrote in and asked us the nature of the challenge and to outline what support we need as a city".
Mr Rees said: "He has come forward and talked about supporting us and we will see how that plays itself out.
"There is nothing signed and delivered and so far it is just a conversation that we had."
Deputy mayor Asher Craig, who is responsible for libraries, added that Banksy is one of a number of parties who have been in touch with the council.
The future of 17 out of 27 libraries had been uncertain due to £1.4m-worth of proposed budget cuts.
However, Bristol City Council said it had found enough money "to keep every single library" open.
A council spokesperson said: "The Mayor has had discussions with a number of organisations and individuals, including Banksy, about supporting our libraries to help build a high quality, sustainable service for the city.
"We're pleased to be working with many of these people to keep libraries open and are keen to develop those conversations further."