Bristol distillery apologises over 'Novichok' vodka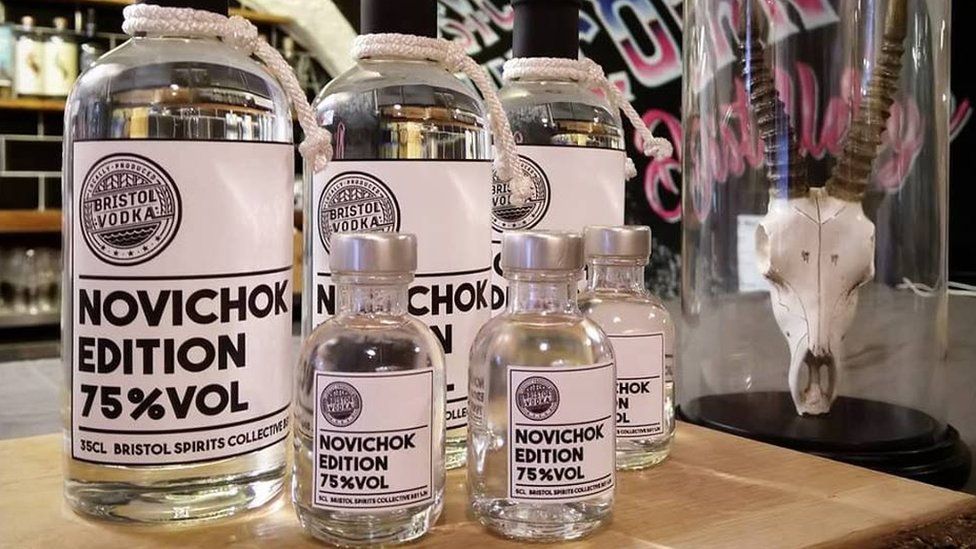 A distillery that released a 75% ABV vodka range named after the toxic nerve agent Novichok has been heavily criticised for its "tasteless" timing.
One person has died and another remains critically ill in hospital after being exposed to the substance in Wiltshire.
Bristol Dry Gin said the release timing of its 75% alcohol by volume (ABV) product "may have lacked sensitivity", the Bristol Post reported.
Members of the public have criticised the company on its Facebook page.
David Gilroy wrote: "Sorry, I think that is in very poor taste naming a gin after something that is still a very serious situation."
And Peter Hooper said: "Pretty poor taste, an innocent woman has died and a man is critically ill, I think you need to rethink your sales strategy."
Her partner Charlie Rowley, 45, who also came into contact with the nerve agent, remains critically ill in hospital.
Their symptoms were the same as those of Sergei and Yulia Skripal.
Bristol Dry Gin told the Bristol Post that its Novichok Edition Vodka was a limited range and it would no longer be producing it.
The distillery said the range, which was promotionally described as "no laughing matter", had been in development for some time, and was only named and released after the Skripals had recovered.
In a statement, the company said the vodka was "intended to lighten the mood and ease tensions, not to cause offence, and reaction has been overwhelming positive".
It added: "We sincerely apologise if any offence was caused, especially to the families of Dawn Sturgess and Charlie Rowley, and understand the timing of the release of this product may have lacked sensitivity."
Related Internet Links
The BBC is not responsible for the content of external sites.