South Gloucestershire homes without water after main bursts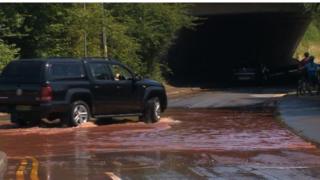 Hundreds of homes are without water because of five water main bursts in Gloucestershire and Somerset.
Bristol Water said there were problems at Almondsbury, Frenchay and Frampton Cottrell, in South Gloucestershire, and Frome and Shepton Mallet, in Somerset, due to recent dry weather.
The firm said it was prioritising customers without water.
The bursts have been blamed on problems with the dry weather causing ground movement problems.
About 850 homes in total are thought to be affected.
Engineers hope to restore water supplies by Sunday evening.