Bristol school stabbing: Boy, 14, seriously ill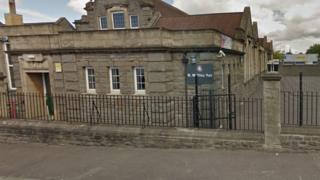 A teenage boy has been seriously hurt in a stabbing at a school in Bristol.
Police were called to St Matthias Academy in Fishponds on Tuesday afternoon following reports of a confrontation between two teenagers.
A 14-year-old was found with stab injuries and was in a stable condition in hospital, police said.
A separate teenager was arrested and is being questioned. The suspect is not believed to be connected to the school.
A spokesman for St Matthias Academy said: "We are working with the police to aid their investigation and we are providing support, with assistance from Bristol City Council, to our pupils and staff."
St Matthias Academy describes itself as a specialist education provider that offers short-term placements for up to 60 students "who are not managing in their secondary school".
It is part of the Learn@ Multi-Academy Trust, which manages four special schools in Bristol.