Bristol slave trader Edward Colston proposed plaque 'not impartial'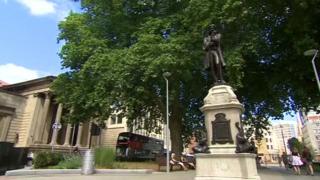 A second plaque detailing a prominent Bristol citizen's slave trading past would be an act of vandalism, a local Conservative politician has said.
Bristol City Council plans to place it on the statue of Edward Colston underneath the original one.
It will describe how he enslaved over 84,000 Africans and would not donate to charities unless they shared his views.
Councillor Richard Eddy said the proposed wording was "utterly devoid of impartiality".
Between 1672 and 1689 Colston's ships are believed to have transported men, women and children from Africa to the Americas.
His memory has been honoured in Bristol for centuries, but his statue, on Colston Avenue, makes no mention of his notorious past.
The Labour-run city council has submitted its own planning application for a second plaque, to recognise and acknowledge the people he enslaved, and a decision must be made by September, documents show.
Conservative Mr Eddy said a second plaque "could well be appropriate", but the current proposed wording was "historically illiterate and very badly phrased" and "utterly devoid of impartiality".
"For example, it lays plenty of black deaths and enslavements at Colston's hands personally," said Mr Eddy. "It accuses him of being a Tory MP, linking that with the slave trade.
"The wording should be put forward and agreed by a proportion of Bristolians, and reflect some of the negative things, but also his huge contribution to the city."
He added it would be "vandalism to erect this plaque on the current statue".
So far the application has attracted a few comments, with some calling for more context in the wording.
Another has objected to describing Colston as a Tory MP as he only held office for a short time.
Last year the Colston Hall music venue in Bristol agreed to drop the slave trader's name.