Council invests £27m in own company Bristol Energy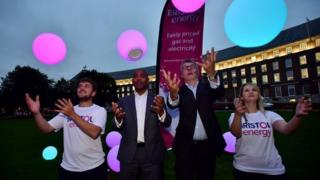 Bristol City Council has invested another £2m into an energy company it owns - taking the total to about £27m.
The firm, Bristol Energy, was set up in 2016 and aimed to be "a force for social good" by reinvesting its profits back into the community.
Managers expect it to be in profit by 2021 - two years later than predicted.
But it was stripped of its contract to supply energy to the council earlier this year after being "marginally undercut" by British Gas.
A council spokesman said it had no choice but to follow strict procurement rules.
The authority said it could not give special treatment to Bristol Energy, despite the fact the authority is the owner.
Craig Cheney, cabinet member for finance, said: "We are fully behind Bristol Energy, but we must follow the procurement rules when awarding public contracts using public money."
Peter Haigh, managing director of Bristol Energy, said: "This was a planned investment from the council, to help us give the fairest possible deal we can to our customers, and support us as we grow.
"All investment will be paid back with interest, and we're on track to start paying back to the Council as planned by 2021."
Bristol Energy is wholly owned by the authority but operates on the open market.
The firm posted losses of £7.7m in 2016-17 but is currently supplying more than 76,000 customers.
It currently employs 180 people in the city.