Man 'left with broken shoulder' in Bristol arrest, family claim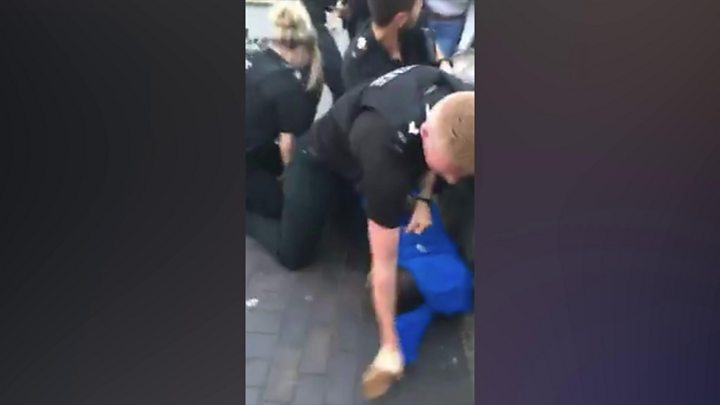 A man who refused to take part in a stop and search was left with a broken shoulder when he was arrested, his family has said.
Footage appears to show Hamza Ahmed, 20, being restrained by police in Castle Park, Bristol, on 21 July.
His family said the student, who denies assaulting an officer, should never have been stopped.
Though police have apologised for the manner of his arrest, Mr Ahmed is due to face trial over the assault charge.
Avon and Somerset Police said there was a heavy police presence in the park due to ongoing problems with anti-social behaviour.
A spokesman for Mr Ahmed's family said he was cycling through the park to meet friends when he was stopped.
But police said he was with a group when he was questioned and police said this was not a stop and search, and were carrying out a dispersal notice.
"He refused to be stopped and searched and did not give his details to police," the family spokesman said.
Mr Ahmed was then arrested, "physically restrained" and sprayed with Pava - a chemical used to incapacitate suspects - according to police.
During this arrest, Mr Ahmed sustained a broken shoulder and liver damage, his family claimed.
The following day, he was arrested a second time after returning to the park in breach of bail conditions.
Mr Ahmed's relatives, who believe the Somali national was a victim of racial profiling, said this was done in order to meet witnesses and gather his own evidence.
The case has been referred to police watchdog the Independent Office for Police Conduct.
Avon and Somerset Police said the whole incident was filmed on body-worn cameras.
A force spokesman said officers had issued two dispersal notices at Castle Park.
"When one man refused to provide his details the officer made the decision to arrest him under Section 50 of the Police Reform Act," he said.
"However, he resisted arrest and assaulted an officer as he attempted to detain him," the police added.
"A complaint relating to the manner and grounds of arrest has been received and as a result of this, we have voluntarily referred the matter to the Independent Office for Police Conduct and are now awaiting direction as to which organisation should investigate further.
"We'd like to reassure the public the incident was captured on body worn video and a thorough investigation will take place."
Mr Ahmed's trial has been set for 21 September at Bristol Magistrates' Court.