Plans to build new Bristol arena in Filton 'crazy', former mayor says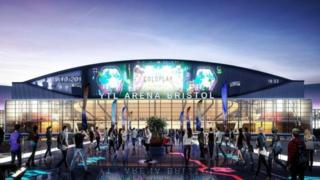 Building a long-awaited arena on the outskirts of Bristol rather than in the city centre would be "a crazy thing to do", a former mayor has said.
George Ferguson was voted in as mayor in 2012 and made the construction of an arena key to his plans for the city.
He lost his position to Labour's Marvin Rees in 2016 and the plan for a central arena has been reviewed, with an alternative in Filton considered.
Mr Rees is looking for "clarity" on the plans with a decision yet to be made.
Mr Ferguson told the Bristol Post the arena should be the "beating heart" of the city and has criticised the alternative plans.
Two locations are being considered, one by Temple Meads and the other at an airport hangar in Filton, about five miles away.
The Filton plans would be funded by its Malaysian owners YTL Developments.
Mr Ferguson has accused Mr Rees of falling "hook, line and sinker" for the "barmy" hangar proposals during a trip to Malaysia in December in which he was hosted by YTL.
A council spokesman confirmed Mr Rees had "received hospitality" from the company "to attend discussions about infrastructure and investment opportunities in Bristol".
This has been properly declared by Mr Rees in his published register of interests and "was at nil-cost to the public purse", the spokesman added.
The project, first mooted in 2003, has been beset by delays and rising costs.
A final decision on the location is due to be announced at a cabinet meeting on 4 September.