Bristol mayor Marvin Rees rejects arena site claims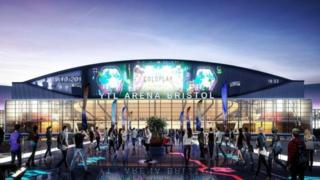 Bristol's mayor has rejected claims he favours a proposed out-of-town site for a new arena after accepting hospitality from the land's owners.
Marvin Rees has been accused of falling for "crazy" plans for a site in Filton, during a trip to Malaysia hosted by its owner YTL.
The venue was first mooted in 2003, but has been beset by delays.
Mr Rees said there was "no controversy" and a final decision will be made by Bristol City Council's cabinet.
Two locations are being considered, one by Temple Meads and the other at an airport hangar in Filton, about five miles away.
The city's former elected mayor George Ferguson criticised Mr Rees for falling "hook, line and sinker" for plans for the Filton site during his trip to Malaysia.
Mr Rees said he met with YTL as part of a visit to Bristol's twin city of Guangzhou in China and Kuala Lumpur.
He said: "The trip out to China was paid for by our sister city and the trip back was paid for by YTL.
"There's really no controversy about it. There's really nothing in this."
Earlier this week a Freedom of Information request revealed talks over the proposed Filton site, five miles from the city centre, took place in spring 2017, several months before the bid became public.
In June, a value-for-money assessment, commissioned by the city council, found the other proposed scheme, on council-owned land at Temple Meads, would cost £33m more than the approved budget of £123m, and that building at Filton would be cheaper.
Mr Rees described the Temple Meads proposal as a "vanity project".
He said he had "a view" on where the arena should be built, and a final decision will be made at a cabinet meeting on 4 September.
A spokesperson for operators Arena Island Ltd said the firm had signed a contract to deliver an arena at Temple Meads and it remained "steadfast in our commitments to achieve that".