Bristol arena site rejection 'called-in' by councillors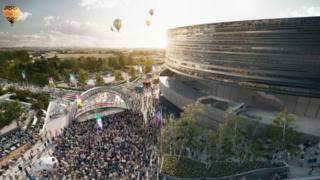 A decision by Bristol's elected mayor not to build an arena at a site in the city centre has been "called-in" by opposition councillors.
It means Marvin Rees' suggestion to use the land at Temple Island for a hotel and housing has again to be discussed by members of the scrutiny committee.
The committee can reject the call-in, send it back to the mayor to decide with advice or send it to full council.
Mr Rees said he still supported an arena in the city but not on that site.
Two locations have been considered one by Buckingham Group on council-owned land near Temple Meads station, the other at an airport hangar in Filton, five miles away.
The project, first mooted in 2003, has been dogged by delays and rising costs.
Analysis
By Pete Simson BBC Radio Bristol politics reporter
Senior councillors at Bristol City Council have used their powers to block Mayor Marvin Rees' decision to shelve plans for a central arena.
The mayor had decided to end the council's ambition for an arena at Temple Meads and instead decided to enter into a commercial relationship to develop a hotel and housing on the proposed site.
That decision came after 50 councillors had voted that it was the best site for an arena.
Councillor Mark Weston, who leads the Conservative group on the council, said: "Whilst it is appreciated that this move is likely to cause the mayor a certain amount of annoyance, it would be remiss of us not to exhaust every avenue available to try to save this project."
Liberal Democrat councillor Tim Kent said the decision "is not just about an arena".
"It's about a major leisure venue that would produce nearly £0.5bn of income for the city centre area and its businesses over the next 25 years."