Majority of Bristol 'litter police' fines to smokers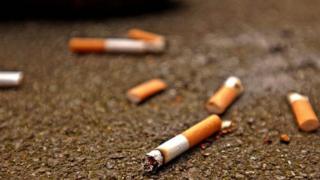 More than 8,700 smokers in Bristol have been fined for dropping their cigarette butts on the city's streets.
An "environmental crimes" enforcement scheme was introduced last November, run by the private contractor, Kingdom.
New figures show its wardens have issued more than 9,000 fixed penalty notices to "people dropping litter or caught defacing property".
But the statistics reveal that 97% of the fines were to people who discarded cigarette ends.
The apparent "easy targeting" of smokers raised concern at a Bristol City Council scrutiny committee meeting on Monday, despite claims that the scheme had "resulted in less littering across the city".
Penny Germon, neighbourhoods and communities service manager, said: "We know Kingdom can go out and hand out 10 fixed penalty notices in an hour for people dropping cigarette butts, but is that we want to focus enforcement on?"
The council has said picking up litter costs the city £6m a year.
Money raised from the on-the-spot fines is used to pay for the service being provided by Kingdom, and the council has said any surplus will be directed back into tackling environmental issues across the city.
Civil enforcement officers - whom locals have dubbed "the litter police" - have the power to issue fines of up to £100 to anyone they catch.
Bristol City Council increased the fines from £75 in April, following a trial period, and extended the area covered by the wardens to the whole city.
Those caught are able to pay a reduced fee if their fixed penalty notice is paid within 10 days.