'Disruptive' and drunk passenger grounds Ryanair flight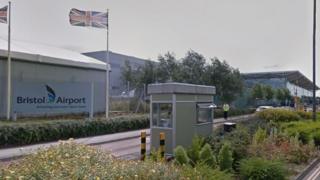 A flight to Spain had to make a u-turn after a drunk passenger slapped another woman on board, it has been reported.
The Ryanair flight from Bristol to Alicante had only been in the air a short time when the "disruptive" passenger forced it to return.
Upon landing, police escorted a 53-year-old woman off the plane and arrested her on suspicion of being drunk on an aircraft.
Avon and Somerset Police said the woman has been released under investigation.
A Bristol Airport spokeswoman said the flight was diverted just as it reached the Dorset coast.
According to the Bristol Post, the incident involved a drunken woman who slapped another passenger.
The spokeswoman said: "As this is an ongoing police matter Bristol Airport is unable to comment further."
Ryanair said: "The aircraft landed normally and the passenger was removed and detained by police upon arrival, before the aircraft departed to Alicante.
"We will not tolerate unruly or disruptive behaviour at any time and the safety and comfort of our customers, crew and aircraft is our number one priority.
"This is now a matter for local police."