Bristol Grosvenor Hotel development still derelict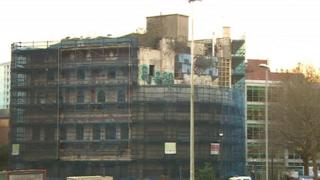 A derelict hotel remains in disrepair a year after work to turn it into student flats should have been completed.
Some investors who sank about £50,000 each into Bristol's Grosvenor Hotel, having been told to expect annual returns of 7.5% for five years, now want their money back.
Work should have been finished by Grosvenor Property Developers by September 2017.
Grosvenor's new owner vowed to resolve the "disgruntled" purchasers' issues.
Angry investors have threatened legal action if their money is not returned.
It is unclear why work has not yet begun on the project, but the developer previously blamed ongoing road works in the nearby area around Temple Meads railway station.
The "high-spec" self-contained student studios were marketed at £99,000.
Dozens of investors paid a £5,000 deposit and a further £44,500, with the rest due on completion of the project last year.
In return, investors were told they could "sit back and enjoy" annual returns of 7.5% "assured for five years".
One investor, Manesh Mathews, said he had instructed his solicitor to take legal action
"For me it was the safety and security of a reputed developer," he said.
"This was meant to be my pension. I'm very angry and upset and I've just lost trust in the system."
Grosvenor Property Developers has since changed hands, and the new owner said they "will proceed with the construction".
Arjun Khadka said arrangements had been made for anyone who wanted their money back "as per terms of the contract", which stated that investors were entitled to their money back if nothing was in place by the end of September this year.