Bristol urged to de-twin from Chinese city over 'organ harvesting'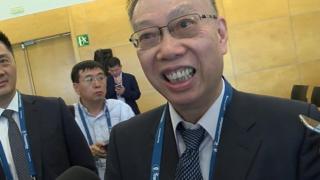 Campaigners are calling for Bristol to end twinning ties with a Chinese city over alleged links to organ harvesting.
Bristol Against Forced Organ Harvesting (Bafoh) claims China uses living prisoners for organ transplants and Bristol should de-twin with Guangzhou.
City mayor Marvin Rees, said it was working with the Chinese government "on all these human rights issues" but was not intending to sever twinning links.
Beijing says all organs used for transplants come from natural deaths.
Bafoh claims there is "overwhelming evidence that forced organ harvesting on a mass scale" is being carried out in Guangzhou, which is one of China's main cities for transplants.
It has handed a petition to Bristol City Council calling for the twinning arrangement to end.
In 2015, China announced it had stopped harvesting organs from executed prisoners - a practice that had supplied two-thirds of transplanted organs - and it now relies on public donations.
But with many Chinese believing the body is sacred and should be buried intact, the country has one of the lowest donor rates in the world.
Bafoh claims prisoners of conscience - from groups including Falun Gong, an exercise-based spiritual movement which was banned by the Chinese government in 1999, and Muslim Uighurs - are now having organs forcibly removed.
"The main concern is people are being harvested for organs for their beliefs," said Becky James, from Bafoh.
But China's Huang Jiefu, chair and director for the National Organ Donation and Transplantation Committee, insists the country's organs come from some of the six million people who die each year in intensive care.
"Last year we had 15,000 organ transplantations performed," he said.
"If you have one donor from a 1,000 people willing to donate - then it is enough."
A council spokesperson, said Bafoh's petition was being reviewed for "factual accuracy" and would be debated by councillors if it received a "sufficient number of signatures".