Bristol UWE men's officer candidate quits over trolling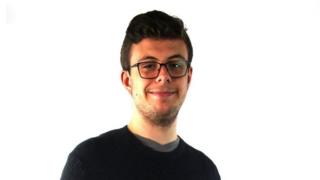 The only candidate to run for Men's Officer at the University of West England (UWE) has quit the election after being trolled online.
Student James Knight wanted to raise awareness about men's mental health after suffering in the past himself.
He said: "It was snarky, snide comments - with one saying 'good night to everybody except anybody who's running for a men's officer role position'."
A campaign group has claimed the role was created undemocratically.
'Huge problem'
Mr Knight said there were "valid" criticisms about the description of the role including the use of the term "liberation" and making the remit the same as the women's and trans officer positions.
But he told the BBC he was hurt by accusations he was a Tory sexist "who hated women" and was using the role to further his own agenda, which was untrue.
Mr Knight is a member of the Young Liberal Democrats group in Bristol.
"To me that was for fighting for men's mental health, particularly because of the young male mental health epidemic that we have in the UK and in the Bristol area.
"We have a huge problem where young men are not coming forward to talk about their mental health and that's led to a high rate of young men taking their lives."
The Facebook campaign InRonWeTrust criticised the creation of the role as "an undemocratic decision" which had already been voted down by the students' union last year.
The university said it would be investigating the harassment Mr Knight had experienced and confirmed the election for this position was no longer running.
The National Union of Students said: "The issue of men's mental health has become a particular focus in recent years, but we must recognise that it is women, trans and gender non-conforming people who bear the brunt of gender-based oppression.
"Our liberation officers seek to undo these structural issues."
Other tweets criticised the role, saying a men's role was not needed as their rights were already represented.