Hostel death families call for closure of Wick House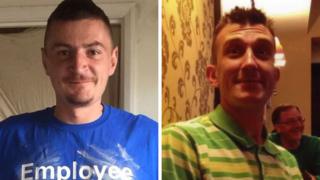 The families of two men who died while living at a hostel for homeless people in Bristol have launched a campaign to get it closed down.
George Mahoney, 32, and Paul Way, 43, were two of several people to have died at Wick House in the past five years.
Their relatives have claimed they did not receive enough support.
Bristol Sheltered Accommodation and Support (BSAS), which runs the hostel in Brislington, said it was "proud of the important service" it offered.
Mr Mahoney died from alcohol misuse in November 2016.
Following a BBC Inside Out West investigation into his death last month, Mr Way's family contacted the BBC to say he had also died at the hostel.
His body remained undiscovered for three days after he died in October 2017.
Avon and Somerset Police said seven deaths had occurred at Wick House in the past five years - the most recent was last month. But BSAS said there had only been four deaths at the hostel since 2013.
Mr Way's sister Lorna Rogers said her brother, who had drug issues, was "left on the floor for three days" in his room before his body was discovered.
"How can a place like that, that says it's supported, sheltered accommodation, not check on someone for three days, when they're supposed to be feeding them three times a day?
"They're supposed to be giving them support, helping with recovery, so why not check on someone for three days?"
Mr Mahoney's father, Keith Mahoney, said he still did not know what happened in the hours leading up to his son's death.
"We know he was alone and there was no-one there to support him, but what the actual circumstances were, we still don't know."
BSAS said the police fully investigated the death at the time.
Set up in 2010, the charity runs two sheltered accommodation centres, including the 87-bed Wick House.
It claims to offer advice and support to residents at "all possible times", while charging £160 per week in housing benefit to stay there.
The online petition calling for "Bristol City Council to stop funding Wick House" and for it to be shut has gained more than 800 signatures.
Previously a spokesman said it was "proud of the important service that it offers in very challenging conditions".
The hostel said it could not comment on Mr Way's death until after the inquest at the end of November.
Earlier this year Bristol City Council said it had been "made aware of concerns" about the independently managed hostel, and had carried out "a number of inspections".
It found "some tenants were only receiving minimal or no support and essentially provided with a 'room only' at Wick House".
"In a homeless hostel we would expect 'above minimal' support to help encourage an improvement in the tenant's situation," a spokesman added.
You can see more on this story on Inside Out West on BBC One in the West of England on Monday 5 November at 19:30 GMT and afterwards on the BBC iPlayer.