Tiny black marsh turtle hatched at Bristol Zoo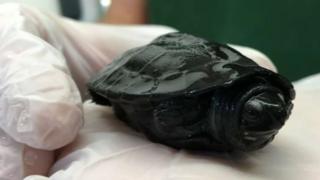 The first baby black marsh turtle in a decade has successfully hatched at Bristol Zoo.
The jet-black turtle is 5cm (2in) long and descended from a group of 10,000 rescued turtles destined for the Chinese food trade in 2001.
Senior keeper Adam Davis said: "It is doing really well. These turtles are listed as vulnerable and are part of a European breeding programme."
Their numbers have declined because they are caught for food.
The turtle, which hatched this week after three months in an incubator, is in quarantine before it can be displayed at the zoo.
When fully-grown they are about 20cm (8in) in length, which can take more than eight years.