Bristol Cary Grant film festival celebrates third year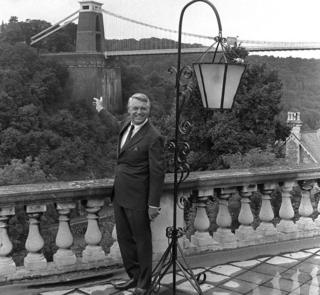 A festival to celebrate the films of Hollywood legend Cary Grant is taking place in his home city of Bristol.
Born Archibald Leach, in the Horfield area of the city, Grant went in search of fame in the US at the age of 16.
Cary Grant Comes Home For The Weekend includes screenings of films he made with Alfred Hitchcock and afternoon tea at the hotel where he took his mother.
It is after a recent BBC documentary, Becoming Cary Grant, showed newly found footage shot by Grant himself.
Organiser Charlotte Crofts said she had "no idea" the biennial festival would "take off in this way" after setting up the first one four years ago.
Dr Crofts said she set up the first festival in 2014 as "an excuse to watch his films on the big screen" and because she thought "Bristol needed to do more to celebrate him as an important cultural icon".
She said: "People love what we do. We have a very loyal audience from all over the UK, Europe, Ireland, Australia including one fan from the United States who is coming back for the third time this year."
You may also like:
Colleen Zwack said she had been a Cary Grant fan "for as long as I can remember".
She said: "My first time in Bristol was for the first Cary Grant festival in 2014. I have loved my time in Bristol. It's a very vibrant and historic city.
"I suppose it's a way to get a closer connection to Cary. Seeing and being in the actual places that were important to a young Archie Leach and later, Cary Grant, is just something extremely special.
"I feel like I will be totally immersing myself in Cary Grant for the weekend - which is a great way to spend a weekend."
Dr Crofts said: "I plan at least one more festival in 2020 which will be the 100-year anniversary of Archie Leach emigrating to New York, so our hope is to find a venue partner in New York who will help us put on events there which are mirrored in Bristol."
The festival runs for three days from Friday.