Bristol UWE accused of suppressing suicide figures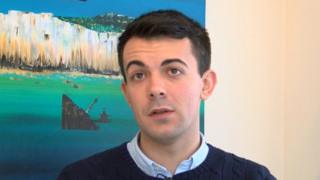 A university has become embroiled in a row over whether it suppressed information about student suicides.
Bristol Post reported the University of the West of England (UWE) withheld information about suicides in a reply to a Freedom of Information request.
Student Callum Tucker asked how many students had taken their own lives in the past five years but UWE said it did not "hold this information".
UWE said it "wholly disputes the misleading and inaccurate article".
Callum Tucker submitted his request for information to UWE in July and received the reply on 8 August.
The newspaper reported that Mr Tucker later found papers which said the university did hold the information in a central database.
Mr Tucker said: "It's important because student deaths are a very sticky topic. It's a very emotive subject but the thing is we need to talk about it. We need to realise it and we need to go further.
"The best thing is, if a student death does occur, is to make sure people know about it."
UWE vice-chancellor Professor Steve West said the university did not have "that information on their databases at that time".
Professor West said: "The figures we are talking about go back to 2010, and a public health report was issued to us in late August, and that report was then considered by the university executive and our academic board.
"We're not trying to say we don't have those numbers but they weren't there at the time of the [Freedom of Information request]."
Bristol Post editor-in-chief Mike Norton told the BBC they "treated the reporting of student suicide with sensitivity and responsibility".
"We stand by this story which is properly researched and accurate."