Bristol photographer 'drugged and abused' men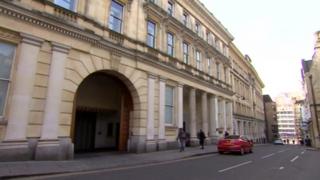 An amateur photographer lured men to his home and paid them to pose in photo shoots before drugging and abusing them, a court has heard.
Nigel Wilkinson, 45, of Bristol, is accused of misusing his hobby as a front for his "depraved yearnings".
After contacting men online offering shoots to document their athletic prowess, he drugged them at his home, a jury at Bristol Crown Court was told.
Mr Wilkinson denies 13 charges relating to seven men between 2014 and 2016.
These include six counts of administering a substance with intent to "stupefy or overpower" in order for him to "engage in sexual activity".
He is also charged with one count of rape, one of sexual assault and five of voyeurism.
'Depraved yearnings'
Jurors were told that Mr Wilkinson had contacted the men via social media, claiming to specialise in fitness photo shoots and offering them money if they would pose for him.
Sarah Regan, prosecuting, told the jury: "Whether this was ever envisaged as a legitimate business, it very quickly morphed into a vehicle for the depraved yearnings of Nigel Wilkinson.
"Although Nigel Wilkinson was gay, he preferred having sex with straight men.
"He liked having sex with straight men without them being aware of it."
One of the complainants told police he had been contacted by Mr Wilkinson, who paid for his train tickets to Bristol, the court heard.
After the photo shoot, the man said Mr Wilkinson took him out for dinner and they returned to his house where he was offered a drink.
Ms Regan said: "The very next thing he remembers is waking up in Nigel Wilkinson's bedroom.
"He said he didn't think that was going to happen and he would never have consented to it had he been consulted."
'Knocked out'
Another complainant said Mr Wilkinson had prepared him a drink containing purple liquid during a party, which he then poured into the man's mouth.
He said it caused his head to spin, his vision to blur and him to feel sedated, but he managed to leave and told his friends, Ms Regan said.
Another complainant claimed he had been paid £200 by Wilkinson to have a photo shoot and was offered two shot glasses of liquid, jurors heard.
In a police statement, the complainant said he was "knocked out" after consuming the drinks.
Ms Regan told the court police had discovered naked images of complainants in the case, which they were not aware had been taken.
The trial continues.