Bristol Metrobus railway bridge road to lowered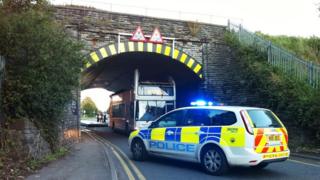 A road which has seen several accidents when buses have got stuck under a railway bridge in Bristol, is to be lowered.
Costs to adapt the Gipsy Patch Lane part of the Metrobus network could more than double it is claimed.
The bridge, at a pinch point on the road in Little Stoke, would need to be high enough to allow double-decker buses to pass beneath.
Council documents describe a plan to lower the road by 5ft 6in (1.7m).
Work on the bridge is set to take place in Easter 2020 when the railway line is closed. The road itself will be closed for two years, the Local Democracy Reporting service said.
The council will need to enter an agreement with Network Rail by February 2019 to ensure it can go ahead.
Originally, the Cribbs Patchway MetroBus extension was estimated at £35m from the West of England Combined Authority's economic fund.
Construction on the bridge and surrounding work could be between £60m and £75m said Network Rail after the outline design stage.
You may also like:
Planning applications for the new bridge and groundwork around it were approved by South Gloucestershire Council in July 2018, with a condition to engage with residents and businesses.
The council said without the rebuild only 1,200 of the 4,000 jobs at the Filton enterprise area would be delivered.