Slide Bristol shared-ride minibus scheme to close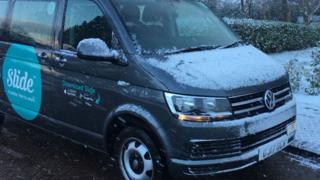 A shared-ride bus firm has blamed Bristol's "challenging" infrastructure and competition from the new Metrobus scheme for its closure.
Slide Bristol was the first "microtransit" service to be launched in the UK, in July 2016, and has made more than 40,000 trips in the city.
The app-based service, which enables commuters to book a ride in a shared minibus, will close in December.
Bristol City Council declined to comment on the closure.
A spokeswoman for RATP Dev, which runs Slide Bristol, said: "Our experience in Bristol has shown us that microtransit services in large city centres can only operate smoothly when they are fully integrated with the public transport network, and this is where we want to focus our efforts.
"As these conditions became challenging to meet in Bristol and with increased competition from two new Metrobus Rapid Transit routes, we decided to end the service."
She said the firm "remains committed" to investing in microtransit services and in "developing new creative transport solutions which benefit commuters throughout the UK and beyond".