South Bristol link road and housing plan 'insulting'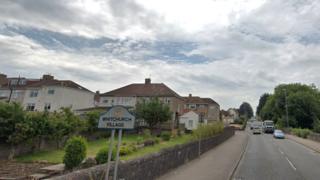 Residents have described plans for a new link road and thousands of new homes south of Bristol as "insulting" and "disruptive".
Bath and North East Somerset Council wants to build a new "Orbital Highway Link" road between Whitchurch and the A4.
It also wants to create 2,500 homes in the area over the next 20 years. No formal plans have yet been submitted.
Some 300 residents met on Tuesday to support a campaign opposing the plans.
Farmer Jill Britton said: "[Building] 2,500 homes here is an insult to the community.
"It's very sad, it's a beautiful greenbelt entry into the conurbation of Bristol. They want to wipe that out, for what?"
The council, which has not yet commented, has set out its plans as part of a new regional housing and transport policy.
'Unreasonable'
The document suggests a new link road - connecting the A37 Wells Road south of Whitchurch to the A4 Hicks Gate roundabout - would allow people to travel around Bristol, rather than driving through the city centre to access another route.
It could also improve bus journey times, it adds.
Campaigner Steve Hill, who lives in Stockwood, said: "The battle is to stop the road, not the houses.
"If you oppose the road, which is a much more straightforward opposition, the houses won't be able to be built."
The council is still in the stages of researching and consulting on the proposals.
Cabinet member Paul May said: "Putting 10,000 people in 2,500 houses in a small community of about 600 houses will absolutely disrupt people's lives, almost unreasonably.
"Lots of people in Whitchurch village actually love the village and it's a super community up there. It's a shame it's going to be adversely affected."