Gay rugby player Kenneth Macharia granted bail from detention centre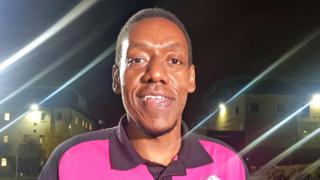 A rugby player who is claiming asylum in the UK on the grounds he is gay has been granted bail from a detention centre despite Home Office objections.
Bristol Bisons team member Kenneth Macharia fears if he is made to return to Kenya he would suffer violence.
But the judge at the hearing in London said bail was not an indication he could stay in the country long-term.
Mr Macharia said he was "very happy to be free" and walking out of the centre felt "very, very good".
"I'm very grateful to all my friends and everyone else who has been supporting me," he added.
More than 96,000 people have signed a petition to stop him from being deported and to grant him asylum.
'Inappropriate' detention
Homosexual acts are illegal in Kenya and punishable by up to 14 years in prison.
The 38-year-old, whose original application for asylum in the UK has been rejected, said: "I'm very fearful that if I go back to Kenya I will be made an example of and put in prison."
His MP, James Heappey, said he was "very pleased" about the development.
The Conservative MP for Wells said he felt it was "inappropriate" Mr Macharia had been kept in detention.
"Clearly bail being granted is not an end to this, and Ken's future in this country is still under consideration," he added.
Mr Heappey said Mr Macharia, who lives in Glastonbury, had made a new application for asylum and he would "continue to support him in that".
Bristol Bisons RFC captain Murray Jones said: "We're past the first hurdle.
"It doesn't mean he gets to stay in the country at all, but it buys us time so we can get more support and more funds so that he can be granted permanence in this country."
The LGBTQ+ team said Mr Macharia feared "persecution and violence in Kenya because he is gay".
Mr Macharia had been detained at Colnbrook immigration centre, near Heathrow Airport.
The Home Office said it did not comment on individual cases.