Bristol fire: Firefighters spend night tackling workshop blaze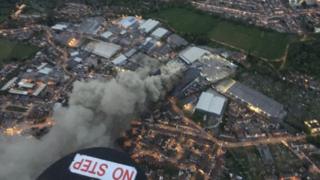 Firefighters worked through the night to put out a large blaze at an industrial unit.
About 40 homes near the fire in the Speedwell area of Bristol were evacuated. It began on Friday evening.
People living nearby reported hearing explosions and the fire could be seen over a large part of the city.
Avon Fire and Rescue Service said crews remained on the scene damping down, and the evacuation was now over for all but three of the homes.
Crews were called to a workshop at the Strachan and Henshaw building in the Speedwell area at about 18:20 BST on Friday.
Duty Group Manager Steve Quinton said the fire began in a workshop on the ground floor.
"The fire spread quite quickly and quite intensely through the rest of the building," he said.
"Due to a large number of cylinders in there we made the decision to evacuate."
He added that people were now allowed to go back to their homes following the evacuation, apart from three homes on Deep Pit Road.
Some roads that were closed have now been reopened, but roads immediately around the industrial estate remain closed off.
Mr Quinton said five appliances and several specialist vehicles remained at the site, and that the operation was likely to last until Sunday.
People who were evacuated without a place to go took refuge at St John's Church on Lodge Causeway.
Nobody is believed to have been injured in the fire.