Thousands attend Bristol community Iftar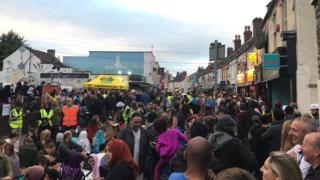 Organisers say up to 6,000 people attended a grand Iftar meal held for the community in Easton, Bristol.
The event began as a direct response to the terror attacks in Manchester in 2017.
Those behind the Iftar wanted to share their faith and food with the wider community, and promote a greater understanding of Islam.
The Iftar meal is eaten by Muslim families after sunset, and breaks the daytime fasting during Ramadan.
Bristol Mayor Marvin Rees hailed the "amazing sight" on Twitter.
The event has doubled in size each year it has been held.
It is estimated that 160 kg of rice was given out as part of the meals, served on St Mark's Road.