Bristol Gulls' Atlantic rowing challenge attempt in 'eco boat'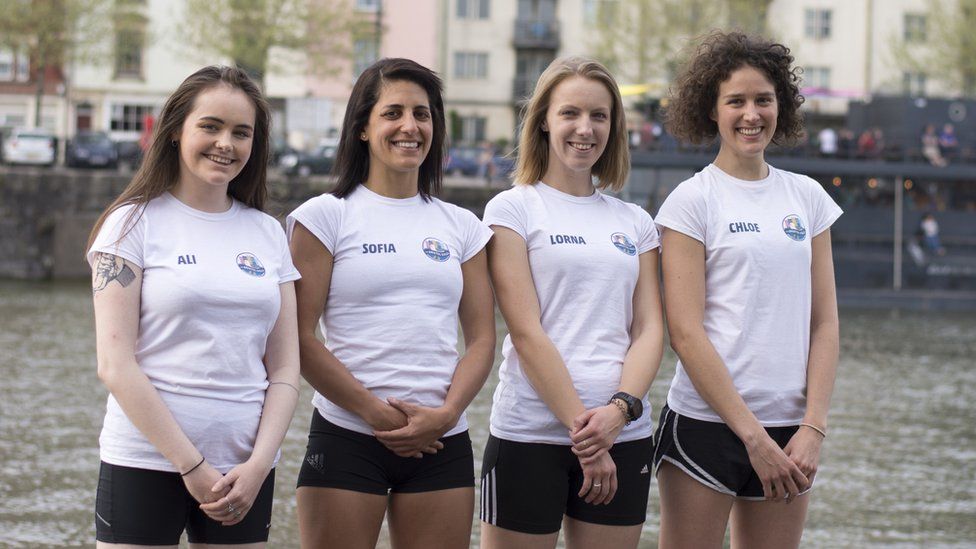 Four Bristol women want to be the first crew to take on an Atlantic rowing challenge in an "eco boat".
The team plans to complete the race in a boat made in an environmentally-friendly way.
The rowers will also be wearing clothing partly made from recycled marine waste.
The race, nicknamed "the world's toughest row", will start in La Gomera in the Canary Islands and finish in Antigua.
The Bristol Gulls - consisting of captain Sofia Deambrosi, Chloe Juyon, Lorna Carter and Aileen Booth - are preparing for the physical challenge while making their voyage as sustainable as possible.
The four women share a love of rowing but also a concern about the amount of waste in the oceans.
"The entire build process of our boat has been adapted to have less impact on the environment," said Miss Deambrosi.
The boat is made using three main composite elements - resin, fibreglass and a foam core. Roughly half of the carbon used to make the resin comes from plant origin, and the fibreglass is manufactured using renewable energy. The foam core is made from 100% recycled plastic.
The boat has no engine and a solar-powered desalination unit will convert seawater into freshwater for drinking and washing.
The crew, who will row 24 hours a day in shifts, will wear clothes made from Econyl, a nylon fabric produced using recycled waste, including fishing nets.
The rowers are currently undergoing strength training and using a sports psychologist to prepare for potential hazards. Extreme weather, 20ft waves and dehydration have affected previous crews.
"For me, the mental challenge is much bigger than the physical one," said Miss Deambrosi. "It's the fact that you're going to be out in the middle of the ocean with just the four of us.
"If something goes wrong or we fall out, we will just have to get on with it."